UNC MPA Alumnus Tabbed as 12th Chancellor of ECU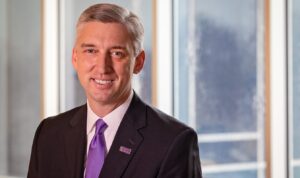 The School of Government is pleased to congratulate North Carolina native and UNC MPA graduate Philip Rogers '05 on his election as 12th chancellor of East Carolina University. Rogers's appointment was formalized by the UNC System Board of Governors on December 17, 2020.

"Given my previous experience at ECU and the wide array of authentic relationships I've maintained with university stakeholders through the years, I am confident in my ability to be an asset to the university and region from day one," Rogers said in a release from ECU. "It is also vital to lead with a listening ear and servant's heart when considering the top priorities to address together as a university."

Rogers graduated with his MPA from UNC-Chapel Hill in 2005. He earned a bachelor's degree in communications from Wake Forest University and a doctorate in higher education management from the University of Pennsylvania.

"Philip's election as 12th chancellor of East Carolina University is not by accident," said MPA Program Director William Rivenbark. "From the time he matriculated as a student, Philip wanted to pursue a public service leadership position with passion. He also understood the importance of embracing a lifestyle of ethics, integrity, and hard work to serve others in our society. His role at ECU is an embodiment of our program's mission statement to prepare future public service leaders. We are very proud of him."

In nominating Rogers for the position, UNC System President Peter Hans described Rogers as "a driven leader who brings energy and vitality to ECU. He has broad national higher education experience and deep local roots in Greenville. Philip is invested in ECU for the long haul and will bring steady, stable leadership."

Rogers previously served as chief of staff at ECU from 2008–13. Most recently, he served as senior vice president of learning and engagement for the American Council on Education (ACE) in Washington, D.C. While with ACE, he was responsible for the organization's academic, research, and innovation strategy. Rogers is slated to begin his duties as ECU chancellor on March 15, 2021.