Entrepreneurial Initiatives and UNC MPA Pair Up for Statewide Impact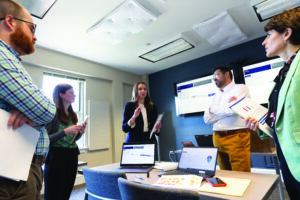 When it was time for Maggie Bailey '21 to look for her first post-MPA job, she didn't have to look far. She found the right fit within the walls of the School of Government, joining the School's Criminal Justice Innovation Lab as its second project manager. The role was a natural transition for Bailey after serving as a research assistant in the Lab as a student.
"The Lab has afforded me the opportunity to leverage skills I gained in the MPA program," Bailey said. "The program does a great job bridging theory and practice. The practitioner's lens is evident in all the work the School of Government does. It's exciting to work on projects that directly support stakeholders and inspiring to see how those stakeholders make measurable changes."
The Lab is one of 10 entrepreneurial initiatives at the School. These specialized, public-service oriented units focus on a variety of critical issues, including public service leadership, criminal justice, economic development and community revitalization, and environmental finance. They generate local government fellowships, produce public policy analysis, and educate public defenders. As this work expands and grows, these initiatives are forging deep connections with UNC MPA alumni and students to support their efforts.
Jess Dorrance ('04) returned to the School in 2021, joining the ncIMPACT Initiative as research director after working at the UNC Center for Community Capital. Returning to the School to work on research and evaluation was "such an easy decision" for Dorrance. With ncIMPACT and UNC's Carolina Across 100 initiative, Dorrance has the chance to continue deploying skills she first learned as an MPA student.
"The curriculum, the things I learned, and the relationships that began with MPA have carried through the years," Dorrance said. "At its essence, our work at the ncIMPACT Initiative is about collaboration. That was such a big part of MPA: working collaboratively with groups, with cohort members, and directly with organizations or communities to help them solve problems or address issues."
MPA students engage in the work of entrepreneurial initiatives by serving as research assistants, graduate assistants, or conduct their Professional Work Experiences (PWEs) with initiatives, generating practical scholarship that leads to real-world impacts in North Carolina communities. It's a mutually beneficial relationship that expands the work of initiatives, provides unique, hands-on learning experiences for students, and allows public officials to gain the resources they need.
"Our students move foundational research forward and take on projects that help us be responsive to stakeholder needs," Bailey said. "Students learn about criminal justice in North Carolina and work on projects directly affecting people's lives. We're lucky to have programs like UNC MPA as partners."
Bailey and Dorrance join other MPA alumni providing leadership to innovative entrepreneurial initiatives at the School. That list includes Dylan Russell '17, executive director of Lead for North Carolina; Emily Williamson Gangi '01, policy engagement director for the ncIMPACT Initiative; and Lydian Altman '84, teaching assistant professor for the Center for Public Leadership and Governance. Each program benefits not only from the expertise of these alumni, but also from the practical skillset of the MPA students supporting them.
"Our team is fairly small, which allows us to be adaptable and responsive," Dorrance said. "But we are tasked with completing a significant amount of work with limited staff capacity. The MPA students help boost that capacity and bring their enthusiasm, skills, and diverse perspectives to enhance our work."